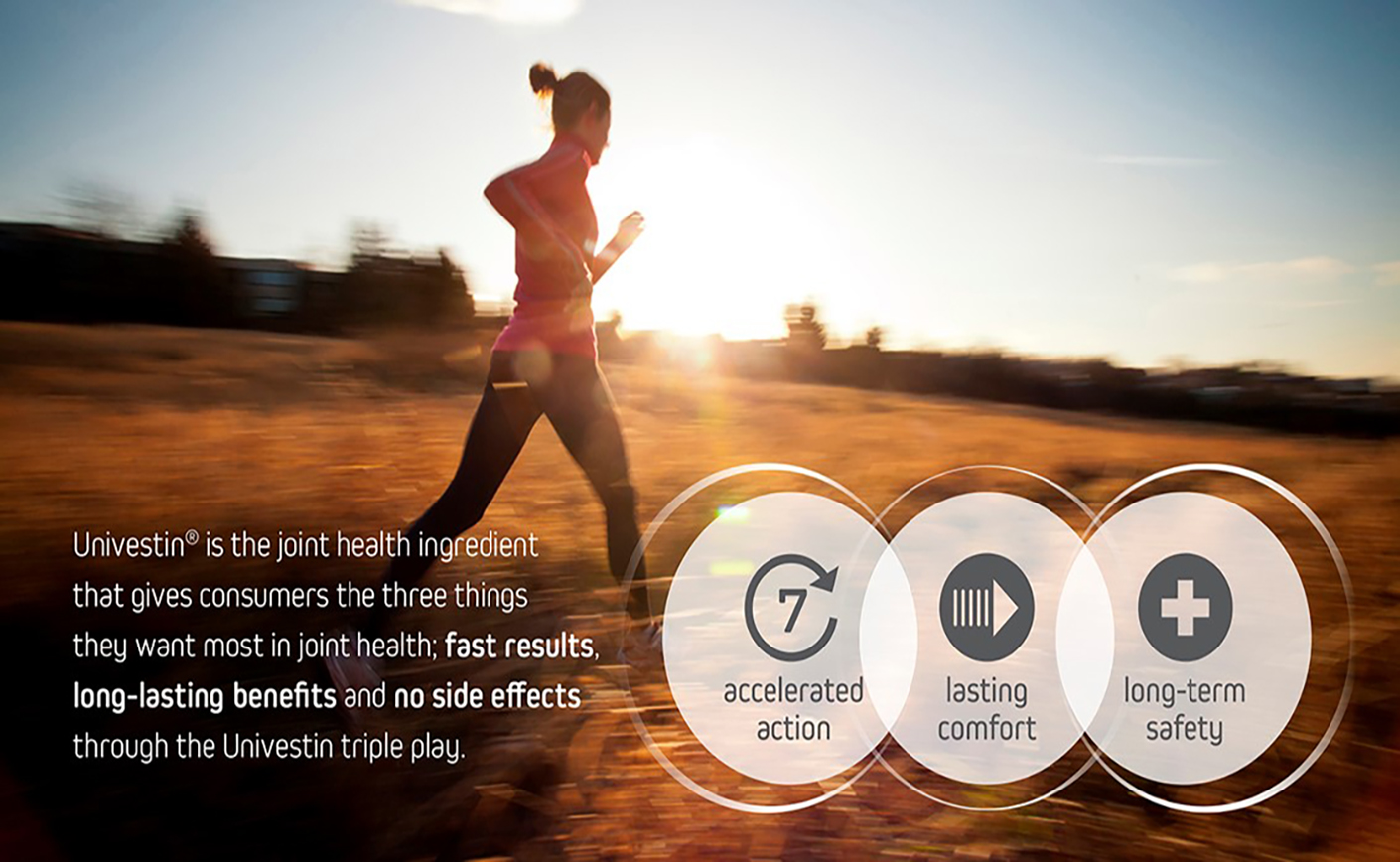 09
Mar
What is Univestin?
A scientifically formulated natural food-based composition clinically proven to support joint flexibility, comfort, and mobility.*
Why choose Univestin?
It's the fastest-acting, longest-lasting, plant-based management solution for bone and joint health used within the natural wellness market.* This patented compound can be found in select Univera products currently on the market. Univestin is a natural plant-derived compound that provides the highest efficacy on the market for bone and joint health;* our scientists have achieved these results with all-natural plant compounds.
Accelerated Action
By providing rapid action for joint flexibility and mobility,* Univestin is an innovative plant-based ingredient that meets key consumer needs. These active patent plant-formulated ingredients:
Are clinically shown to support joint flexibility within 3 days*
Are scientifically proven to support joint comfort within 5 days*
Promotes support of range of motion and physical function within 7 days*
These powerful plant compounds come together to form what we call the Univestin Triple Play™ . Through over a decade of lab and field testing, Univestin can consistently produce the highest efficacy in natural supplements.
Lasting Comfort
Univestin focuses on maintaining targeted joint health by enhancing your body's natural resources and abilities to support maintenance of supportive cartilage, which in turn supports overall flexibility in joints when used as a dietary supplement that is consumed on a daily basis.*
Supports joint health through a multi-pronged mechanism of action*
Promotes joint flexibility*
Supports joint comfort and overall mobility*
As we age or engage in physical activities, it becomes increasingly important to support our joints. Highly effective plant compounds found in the Univestin formula are constantly at work, supporting joint flexibility and comfort.*
Limited joint flexibility and mobility can limit a person's willingness to be physically active. This can reduce a person's overall workout schedule and negatively impact their wellbeing as a result.
Supplements are not meant to cure a health issue at hand, but to assist users' bodies in their natural abilities to manage or produce resources to live a more active lifestyle. Univestin's formulated compounds in field studies produced positive mobility results and better supported joint comfort in under 5 days.*
Long-term Safety
Safety that is truly backed by science.
Lab-backed research centered around Univestin spans over a decade and includes:
Proven safe in safety studies for long-term human consumption
Backed by two randomized, double-blind human clinical trials
Undergoes stringent QA processes for guaranteed purity and potency
A substantial body of peer-reviewed, published, and independent research demonstrates Univestin's formulated ability to relieve support joint comfort and healthy joint function.*
Backed by the world's largest medicinal plant library.
Phytologix® Technology: Univestin's unique formulation was developed through Unigen's proprietary Phytologix technology platform. This proprietary informatics database contains comprehensive botanical profiles on over 12,000 plants and data on more than 300,000 HTP fractions.
Univera understands that it is of great importance to educate individuals about the safety, quality, and effectiveness of the dietary supplement products that Univera intelligently researches and scientifically engineers for our consumers. Through advanced technological tools, scientific methods, and lab testing we can ensure Univera will remain the most trusted and innovative brand in natural supplements.
*These statements have not been evaluated by the Food and Drug Administration. This product is not intended to diagnose, treat, cure, or prevent any disease.