Aloe in the Raw is made with 100% Organic Aloe Vera promoting the health benefits of Aloe to soothe, cool, and moisturize while minimizing wrinkles and signs of aging on your skin. Minor cuts, burns, scars and sunburns may also be relieved with Aloe, allowing for a variety of benefits to your skin.
100% Organic Aloe Vera to influence good health on any type of skin (Normal, dry, oily, combination). Has the ability to be used daily to improve feel, elasticity while reducing stretch marks, scars, and damage from the sun.
How to use: apply and massage into skin gently throughout the day and leave on skin to let absorption take place. Quick drying gel allows you get back to the task at hand without hesitation!
Created from one of the oldest Aloe Vera Gardens in the United States started in 1939. In 2011, they were awarded "Certified Organic" under the USDA NOP and awarded the certificate of Global GAP (Good Agricultural Practice). In February of 2021, Organic Certification was given for processing/handling of Aloe. This garden in Texas is known as the historical home of Aloe.
Univera is determined to bring the best of nature to humankind. Focused on the use of natural and organic ingredients to provide our customers with the best products possible.
Key Benefits:
Soothes, Cools, and moisturizes
Improved skin appearance
Enhanced skin recovery
Cools sunburnt skin
Categories:
Suggested Use: Apply to skin as needed. Gently massage into skin throughout the day. Leave on skin to allow absorption.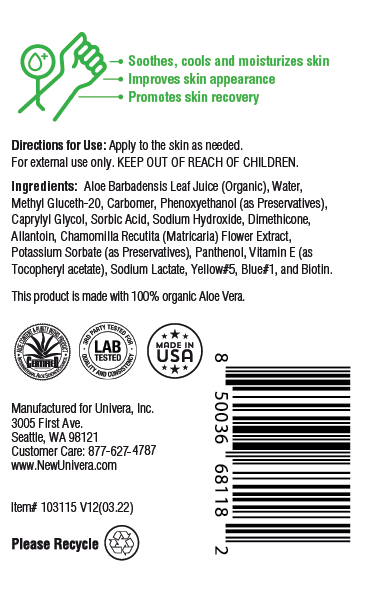 Warning: For External use only, Keep out of reach of children.
Our Customer Guarantee
Experience Univera's 90 Day Difference
hidden
Life Changing
Experience results you can see, feel and measure!
hidden
Free Shipping
Availabe to all customers in the contiguous US and Canada!
hidden
Money Back Guarantee
We are confident you will enjoy benefit from the Univera Difference!
We found other products you might like!